Paul M Chesney- Chesney Digital Studio
All songs and dialogue/story written and recorded by Paul M Chesney. 
-About-
Paul is a die-hard fan of bands who tend to create their own genres like Man or Astroman?, Deadbolt and the Amino Acids but also digs on the likes of the Breeders and L7 which are clearly an influence.
"The first time I heard the Amino Acids at the Tap Room in the early 2000's, I thought my brain was going to explode. But instead, my entire life suddenly became a 1950's sci-fi movie, and has been ever since."
While in the midst of this joyus period of surf and spy-fi exploration, Paul began dating artist & photographer Carla French, who became a mentor and eventually, a wife.
"I think there was a super-nova somehwere in space when I met Carla" Paul philosophically recounts "I'd met her at my sister's wedding where I caught the garter for the first and only time in my life. On our first date, I was beyond nervous and with my mind in a muddle I parked about a quarter mile away from where the restaurant was. But instead of asking me to move closer, Carla just laughed and we had a really nice walk."
Paul dreamed of making feature films but didn't know where to start. With Carla in her final year at College For Creative Studies, he utilized the opportunity to learn as much as possible.
"Carla and I made frequent trips to the CCS campus, which was an amazing experience I'll never forget. I'd help with her exhibits at art shows like Noel Night and the Festival of Arts. Then one day, she asked for my help with a video project for a 'film' class. Suddenly I had access to all this expensive technical video equipment."
The project: a short video written by Carla called 'Empty Room'. The movie had no real ending due to time constraints and Paul dreamed of something bigger. The wish would be granted a few weeks later when Carla gave him Carte Blanche on her next video assignment which was to be his first short; "Bonus Club".
"Carla had just gotten off of work and we went to get ice cream. On the second bite, a thought popped into my head that it would be an interesting premise to explore the personalities of people you think are ordinary, by revealing their secret thoughts through flashbacks."
Though Bonus Club was supposed to be a video assignment, Paul couldn't wait to use actual film.
"One day, Carla bought me a DVD she found in the bargain bin of some store for like $2.99 ....and it changed my life forever. It was Roger Corman's Bucket of Blood". From that point forward, I was hell-bent on using film rather than video. But the beauty and elegance of the film look I so loved came at a price- shooting, developing & transferring Super 8mm as well as the cost of lighting equipment presented quite a financial challenge.
Carla, once again my connection to everything, frequently took me with her to several photo shows where various vendors met and sold all kinds of used camera equipment. It was there that I began to amass the film & lighting arsenal I would need to shoot super 8mm, which I did for the first time in the flashback scenes of Bonus Club".
During this time, Paul made frequent trips to his father's house for dinner and became intrigued by the witty and comical antics of his younger step-sister Jane.
"I remember these fascinating dialogue driven interactions between Jane, my dad and her mom during dinner and it was like watching a sitcom. The table talk consisted of serious debates formed from oddball factual trivia about things like how cheese is made. Like a virtual encyclopedia, Jane and her mom argued the correct spelling of some word while my dad and I just sat and watched. I was utterly amused and truly inspired."
After casting Jane as the flashback girl in "Bonus Club", Paul decided to develop the character and write a script for a full length feature film based on Jane's real life persona, "Project 9: Chronicals of a Girl Genius", which was to be shot in Super 8mm. Though mostly filmed in the summer of 2003, scheduling and financial delays halted production and the film never saw completion.
"In the story, Project 9 was a code name for the 'Laser Diode Scone', a device based on an incomplete formula developed by Jane's great Grandmother Beady Dine. When Jane visits the farm where her great grandmother lived after learning of her death, she searches through a barn and discovers a hidden box in which lies the documentation for the incomplete Project 9. Along with formula notes, Jane also finds a journal written by great grandmother Beady Dine chronicling her story. In many ways I suppose the story of Project 9 paralleled my struggle to actually complete a film and be a filmmaker. But more importantly, it was the story of my quest to be like my dad and my grandfather, carrying on the legacy of both Chesney art and the glorification of GOD through my work.
Now years later, I'm still pursuing project 9 by exploring the story of great grandmother Beady Dine in a radio show format audio drama. Though my dream is to eventually shoot a 16mm feature film and one day complete Project 9."
                                                           -Statistical Data-
  Hometown: Grosse Pointe Park, MI
  Married to: Carla Chesney
  Faith: Biblical Christianity
  College: BAS Electronic Engineering, I.T.T.  
  Technical Institute of San Diego, CA
  Hobbies: Microcontroller programming and
  circuit design + implementation.
  Guitars: Teisco Silvertones- Click Here For More
  Favorite Movie: Attack of the Crab Monsters
  Coffee: Caribou's French Roast & Obsidian
  At Home- Bigby French Roast or Breakfast
  blend.
(The above picture shows the Basic Stamp II powered fountain pump controller, a device Paul made for the Edward Chesney "Water Babies" fountain sculpture currently being displayed at Rainy Day art supply store in Grosse Pointe Woods.) 

The Origins of Chesney Studio
"I am extremely proud to have had the privellege of being raised in such an amazing artistic family. I'm Inspired by thier works & accomplishments but most of all the absolute persistant and undying faith in GOD that allows the most unlikely success in the persuit of an art career."
                                                                                                  -Paul Chesney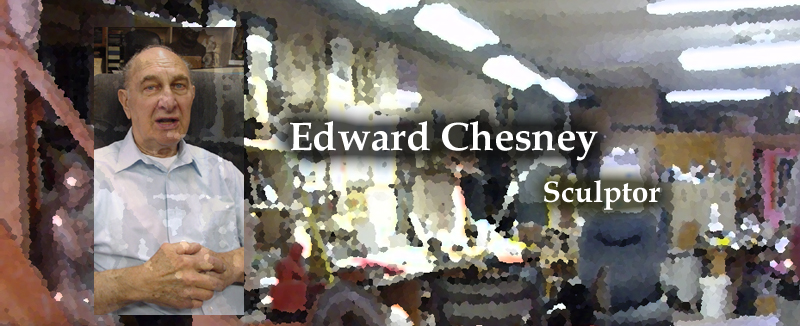 Read all about the original 
  Chesney Studio & sculptor
  Edward J Chesney, Paul's
  Grandfather and hero!